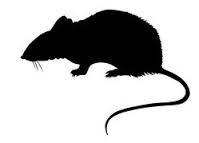 Nobody likes to find that they have rats or other vermin in their home but the reality is that sometimes they just might find their way in. There are ways you can prevent rats in your home but sometimes even the best efforts are in vain.
When you are unable to prevent these uninvited guests it's time to call in the heavyweights, Best 1 Cleaning and Pest Control. Our team of pest control experts know exactly what to do when it comes to ridding your home of rats.
With our knowledge and equipment your rat problem will soon be a thing of the past. If you think you have rats you should give us a call ASAP before the issue gets out of hand.
In the meantime if you think you have rats but are unsure, it may help to know the common species found here. There are two common species and both are easy to distinguish.
Black rats
The black rat or Rattus rattus is found right across Australia. This rat can grow from 16 to 24cm in length and 150-200g in body weight. The body of the black rat is slender; ears are large with a pointed nose. The tail is usually longer than the body and head.
Black rats are great at climbing and are very agile. Fruits that are moist and juicy are the preferred choice of these critters so keep an eye on fruit bowls left on benches.
Brown rats
The Rattus norvegicus or brown rat likes to live underground and burrow but will also climb if they need to. Growing from 350-500g in weight and up to 40cm in length the brown rat is the larger of the two common species.
Brown rats noses are blunt with tails that are shorter than head and body. In comparison with the black rat, the brown rat has a thicker body and smaller ears.
Possibly due to their size, brown rats consume far more than black rats in a day. They will eat approximately 30g of your food and 60ml of liquid a day. The brown rat is omnivorous but prefers to munch on cereal.
For this reason keep an eye on cereal boxes, if you find any chewed holes in the corner then this is a good indication that you have brown rats lurking about.
Contact our team at Best 1 Cleaning and Pest Management today for a consultation with our highly qualified pest control team.