10 Health Benefits Of Carpet Cleaning
10 Health Benefits Of Carpet Cleaning
The Secret To A Healthier Home
If you want to know the health benefits of carpet cleaning, this infographic with the list of ten below will be a good starting point. Whether you're suffering from allergies or susceptible to illnesses due to being immunocompromised, these are benefits that you'll enjoy. Regular carpet cleaning will help prolong these benefits.
By the time you finish reading this, you'll probably have a plan to keep your floor clean as often as possible. Without further ado, let's cut to the chase and let you know what to expect just by cleaning your carpets.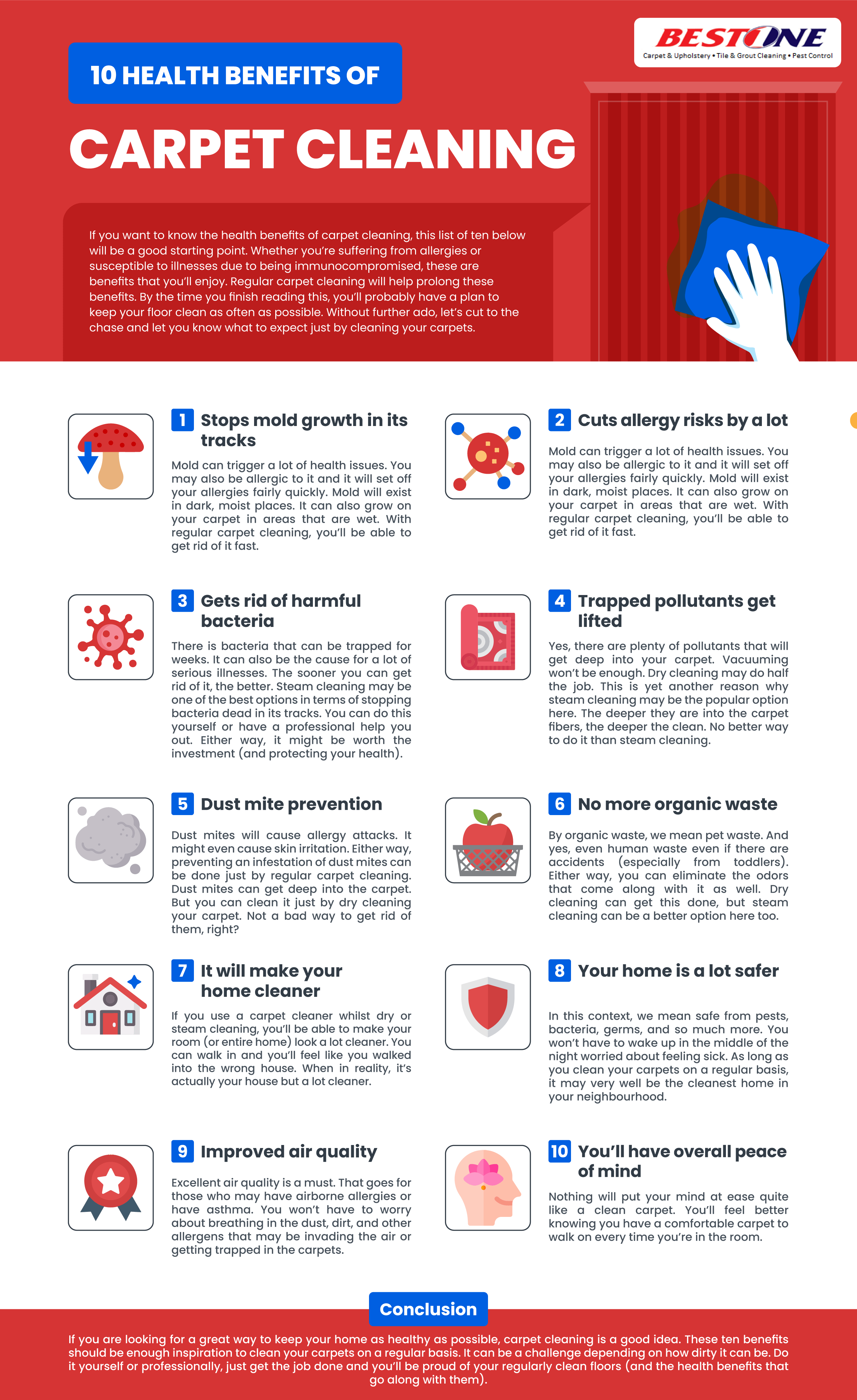 1. Stops mold growth in its tracks
Mold can trigger a lot of health issues. You may also be allergic to it and it will set off your allergies fairly quickly. Mold will exist in dark, moist places. It can also grow on your carpet in areas that are wet. With regular carpet cleaning, you'll be able to get rid of it fast.
2. Cuts allergy risks by a lot
If you are an allergy sufferer, this is one of your best lines of defense against various allergens. This includes dust, dirt, pollen, and pet dander. You can say goodbye to frequent sneezing, stuffy noses, and watery eyes with clean carpets. Not too bad of a benefit, knowing you can walk in your house and everything just smells great.
3. Gets rid of harmful bacteria
There is bacteria that can be trapped for weeks. It can also be the cause for a lot of serious illnesses. The sooner you can get rid of it, the better. Steam cleaning may be one of the best options in terms of stopping bacteria dead in its tracks. You can do this yourself or have a professional help you out. Either way, it might be worth the investment (and protecting your health).
4. Trapped pollutants get lifted
Yes, there are plenty of pollutants that will get deep into your carpet. Vacuuming won't be enough. Dry cleaning may do half the job. This is yet another reason why steam cleaning may be the popular option here. The deeper they are into the carpet fibers, the deeper the clean. No better way to do it than steam cleaning.
5. Dust mite prevention
Dust mites will cause allergy attacks. It might even cause skin irritation. Either way, preventing an infestation of dust mites can be done just by regular carpet cleaning. Dust mites can get deep into the carpet. But you can clean it just by dry cleaning your carpet. Not a bad way to get rid of them, right?
6. No more organic waste
By organic waste, we mean pet waste. And yes, even human waste even if there are accidents (especially from toddlers). Either way, you can eliminate the odors that come along with it as well. Dry cleaning can get this done, but steam cleaning can be a better option here too.
7. It will make your home cleaner
If you use a carpet cleaner whilst dry or steam cleaning, you'll be able to make your room (or entire home) look a lot cleaner. You can walk in and you'll feel like you walked into the wrong house. When in reality, it's actually your house but a lot cleaner.
8. Your home is a lot safer
In this context, we mean safe from pests, bacteria, germs, and so much more. You won't have to wake up in the middle of the night worried about feeling sick. As long as you clean your carpets on a regular basis, it may very well be the cleanest home in your neighbourhood.
9. Improved air quality
Excellent air quality is a must. That goes for those who may have airborne allergies or have asthma. You won't have to worry about breathing in the dust, dirt, and other allergens that may be invading the air or getting trapped in the carpets.
10. You'll have overall peace of mind
Nothing will put your mind at ease quite like a clean carpet. You'll feel better knowing you have a comfortable carpet to walk on every time you're in the room.
Conclusion
If you are looking for a great way to keep your home as healthy as possible, carpet cleaning is a good idea. These ten benefits should be enough inspiration to clean your carpets on a regular basis. It can be a challenge depending on how dirty it can be. Do it yourself or  hire the professionals from Best 1 Cleaning just get the job done and you'll be proud of your regularly clean floors (and the health benefits that go along with them).