Avoiding Rodent Invasion at Home
Owning a home has it's challenges now and then, but more so when you get an invasion of rodents such as rats or mice. These pests carry all sorts of disease and can do untold damage to pipes and wires in and around the home, and also to stored items in cupboards and garages. So it's important to have them dealt with as soon as possible.
Different Ways to Deal with Rodents
There are a few ways to deal with rodents. But before any treatment can be determined, the pest technician needs to do a thorough inspection of the premises. This will give a good idea of where the rats are hiding and also where the entry and exit points are into the home for these pests.
Baits and Traps
Once the entry point has been found or even the nest, the next step is to lay some baits or traps. There are two common baits that pest control companies use. The first is a solid wax block and the second is a liquid bait. The wax block is very durable and will last for some time even if left outside, and is also a very good for maintenance control for rats and mice. The liquid bait can be used in many different situations and is very fast acting. So for a fast kill of a rodent invasion, a liquid would be used. The pest controller would have to be careful of where they leave the liquid baits when treating a residential property because of children and animals. The wax blocks are mostly placed inside a lockable bait station that children and animals can't get into.
Cage Traps or Stick Pads
Another very effective method of catching rodents is with a cage trap or stick pads. With a cage, the rodent get trapped inside after being lured inside with a bait. They can then be safely removed by the pest controller. With the stick pads, they are placed near the entry points or in the path that the rodent is frequenting, once a rat or mouse runs over the stick pad they are stuck and can't get free, so these devices are very successful in eradicating rodents. Rats and mice like to use the same path and are very much creatures of habit, so this is where the initial inspection of the premises, whether they are residential or commercial, comes in handy. The inspection will determine where best to place bait stations and or stick pads.
Rats in the Roof
If there are some noises during the night in the roof, it is very possible that you have rats in the roof. Placing some stick pads in the roof or by the entry/exit points is a very good way of making sure the rats can be removed and not die up in the roof void.
Sealing Entry Points
Once a treatment has been done, it is very important to seal up the entry points so that other rodents don't gain entry into the premises, once the initial rodents have been caught and removed, a few bait stations should be left to ensure no further problems occur. These stations should be checked and re-filled every twelve months to help prevent any more problems from occurring.
In the picture below, you can see the stick pad used in this pest control job. The rat in this case was a roof rat and had gained entry via the wall cavity. This area had a very strong smell of urine and lots of droppings. This is a very good sign of rats. We also placed some bait boxes in various places around the home to help with the prevention of any more rodents.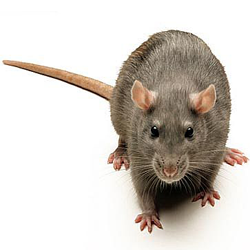 With our cities becoming bigger and busier, we will always have the problem of rodents. But some general tips for keeping them away from your home or office is by simple keeping the surroundings clean and tidy, and also block of any entry points to walls and roof spaces.
In Brisbane and Ipswich, there are more houses than units, and many people may think that living in a unit they are not exposed to the troubles of rats and mice. But that's not the case, even in the high rise residential towers we have on the Gold Coast and Sunshine Coast, you can still get problems with rodents as they are very good climbers and can work their way up through wall cavities. Once they are into these areas on high rise buildings, they will have to be lured out and baited. So hiring the services of a professional pest control company like Best 1 Pest Control will give you piece of mind knowing that the jobs done right the first time.