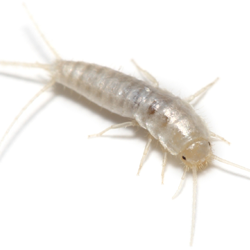 Control of Silverfish
Inspection is an important part of a treatment. Thorough inspection should involve moving and opening stored articles to disturb them. In some cases, the use of an aerosol flushing product will help to locate any activity. The possibility of populations residing in wall cavities can make control more complex and demanding.
Non-Chemical Control of Silverfish
Inspecting incoming goods that may harbour silverfish, such as second hand books or furniture, will help to avoid infestation from occurring. Books, paper, files and other stored products should where possible be stored in light and well ventilated areas. Books hidden away in closed cupboards, particularly if they are not used often, can provide very suitable conditions for the development of silverfish. In areas like kitchens, the containment of food and frequent cleaning of scraps will help to reduce the likely hood of a silverfish problem.
Chemical Control
Where there is a widespread distribution of silverfish within a property, it may be necessary to use a combination of products to gain a level of control. The premises should have a thorough clean up prior to the application of an insecticide.
Life cycle
Silverfish go through a primitive metamorphosis; this is sometimes referred to as 'no metamorphosis'. Females lay eggs singly or in small batches, and these will hatch in 2-8 weeks. The hatchlings resemble the adult form and undergo a number of moults. Sexual maturity is usually reached after about 3-24 months. Silverfish moult periodically throughout their adult life, which can be as long as four years.