( Move Out Special – 3 Rooms Cleaned for $99.00 No Hidden Costs Call Now) Click here to see our full pricing.
Expert Cleaning Powerful Truck Mounted Machines and Portables For High-rise Buildings.
We Use Our Own Power and Hot water.
[youtube id="T0JAdubsSXI" width="600″ height="350″]
Ipswich is becoming a very large city. There have been many developments there over the last few years, and there is also the intended up-grade of the Amberley air base happening over the next few years. It will mean more and more people will require the services of a professional carpet cleaner.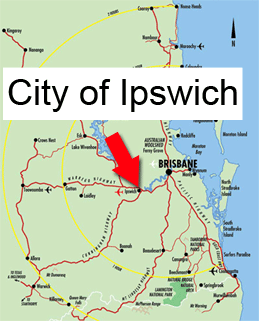 Ipswich now has the new highway upgrade, so this makes it a much closer city to its big brother Brisbane. This makes it a lot easier for carpet cleaners to be able to service all the suburbs of Ipswich without it costing a fortune. This also means you have more carpet cleaners in Ipswich to choose from ensuring you get the very best of service.
Access to Buildings in Ipswich
The buildings in the centre of Ipswich have very little access, so the use of a truck mounted machine isn't an option for these types of building. Carpet cleaners will have to park in the basement and take the equipment up to the unit being cleaned.
When hiring the services of a professional carpet cleaner, make sure they have the experience in steam cleaning and dry cleaning carpets in high rise buildings. This will ensure your carpets stay looking and feeling cleaner for longer.
Ipswich has some of the oldest homes in parts of it like in the suburbs of Booval and east Ipswich, and many home owners have started to replace the older style carpets with the newer ones now available on the market today.
There are also many rental properties throughout Ipswich, so there is always the call for a good quality and reliable carpet cleaning company. Always use a professional cleaner to clean your carpets when vacating a rental as this will ensure you get your bond back with no delay.
16 Years Experience Carpet Cleaning in Ipswich
Best 1 Cleaning has been cleaning carpets in and around the Ipswich region for 16 years now and has built a trustworthy relationship with many of the local real estate companies that rent out houses and units. Best 1 has cleaned carpets for Walkers Real Estate, Professionals Real Estate, LJ Hooker, Ray White and many more.
When you're having your carpets cleaned when vacating your rental property, make sure you use a company with a good track record of doing quality work or your bond could be at risk.
Ipswich also has its fair share of commercial properties, and many of these have carpets that need regular cleaning and maintenance. Best 1 can set a cleaning program to suit any company and with the flexibility of working 7 days. This means we can do your office carpet cleaning after hours when the staff have gone home.
Emergency Flood Extraction Service
We also have an emergency flood water extraction service for those unexpected accidents. Flood water needs to be removed from carpets and the underlay as soon as possible. If water is left too long, it will start to form mould. Once this has happened, the carpet will need to be replaced. This can be a costly exercise, so it pays to hire an expert in flood water extraction that can be on site within a few hours.
With the recent floods we had here in Ipswich, many of the homes that were affected are suffering from mould issues. If the mould spreads to the carpet, it would need to be professionally steam or dry cleaned as soon as possible to prevent further damage to the carpet and the underlay and also to ensure the residents of the property are safe from mould spores.
Packages to Suit Every Budget
Best 1 Cleaning has a package to suit every budget – from tenants vacating a rental property to home owners wanting a good thorough clean. Our bronze package is aimed towards tenants moving out of a rental. The silver cleaning service is more for your homeowner having a yearly clean done. The gold cleaning is for heavily soiled carpets that need that bit of extra work done and time spent on them or for carpets that haven't been cleaned in a few years.
Our packages make it possible for everyone to get the carpets professional steam or dry cleaned using the latest truck mounted and portable cleaning machines. It pays to get a professional to do it once, instead of a cowboy to do it once and never come back.
There are now many different carpet cleaning techniques, and each one can be applied to the many different types of carpets we now have on the market. But if you hire a professional, they can advise the best system for your particular carpet.
Stains and odours
Stains and odors can be treated a few different ways. They can have a cleaning solution sprayed on to absorb the stain or odour or they can be cleaned and extracted. Both methods are used a lot in today's fast changing cleaning world, with cleaning solutions becoming more and more advanced.
Some cleaning solutions are designed to be able to be left in the carpet and this will not damage the fibres. These are mainly dry cleaning solutions designed to crystallise. When solutions dry out during the crystallisation process, the dirt from the carpet fibres are encapsulated. On the other hand, cleaning solutions used with a hot water extraction or steam cleaning method generally have to be extracted from the carpet using a rinsing agent. The reason for this is many of these types of shampoos can have a high pH level and if not removed fully they can start to damage some carpet fibres.
So it always pays to hire the services of a professional carpet cleaning company with many years of experience in cleaning residential and commercial carpets. This way your carpets will last a lot longer and stay looking and feeling cleaner for longer.